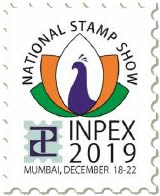 Mumbai Coin Society is proud to support INPEX 2019 organized by the Philatelic Congress of India, the National apex body.
MCS invites its members to participate with exhibits. For details on how to participate and the various categories please go through the prospectus for INPEX 2019 (Download Prospectus).
MCS will honor each member who exhibits at INPEX2019 with a special Commendation Certificate and those members who win Silver medal and up will be honoured with a Special Award Certificate.
Pls note members are to mention MCS as society while filling the form online on www.INPEX2019.com All formalities and payments to be made by the member directly as per PCI Rules & Regulations.